Carpet
Is still the flooring of choice for many American homeowners.
Carpet is still the flooring of choice for many American homeowners where warmth and comfort are a priority in their decorating. Choosing the right color and style with confidence is easier if you have a basic understanding of today's carpet fashions and how they apply to your personal tastes and lifestyle.
Vinyl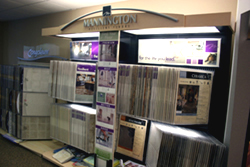 What is resilient flooring? Unlike old-fashioned linoleum or vinyl flooring, today's resilient flooring is a highly engineered combination of polymer materials. From realistic interpretations of traditional ceramic tile, stone, marble, slate and hardwood in updated palettes to contemporary, all-over designs in unexpected colors
There's fashion floor for every room in your home and for every interior design style, no matter your budget.
Laminates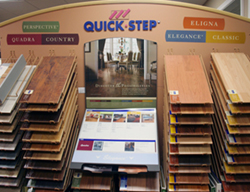 Laminate is still the flooring of choice for many American homeowners. Laminate has been designed so that during installation the laminate flooring panels can be slotted together either angled or horizontally and without damage. This is very important in areas where angling is either difficult or impossible (under door frames or radiators, for example). The ingenious system has a special shape of tongue and groove. Their sophisticated and very accurate milled shape makes it possible to create a very tight connection during the installation.
Laminate is more durable than hardwood at a similar cost.It also has a lower maintenance cost.
Ceramics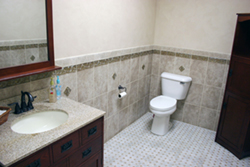 Our knowledgeable staff is dedicated to assisting you with your selection, specification and purchase of ceramic tiles and complete installation products. We offer the latest in ceramic tile designs from the world's leading manufacturers.
Hardwood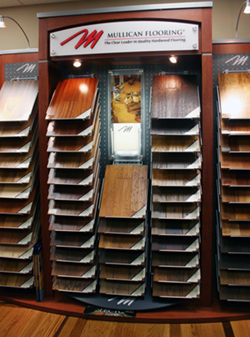 Hardwood floors provide warmth and beauty to your home. There are many other benefits of hardwood floors as well; such as the value they add to your home, easy care and cleaning, great style coupled with durability and as always, they're natural and safe for the environment. Give your room a makeover with hardwood flooring!
Cabinets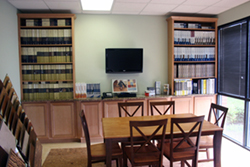 We have many lines of cabinets with a wide selection of styles and wood types. We also carry Berenson: Decorative Hardware Berenson Hardware offers you many selections and designs for your Cabinet needs. Whether you are looking for Chrome, Tin, Stainless Steel, or Gold Berenson has a wide selection of finishes that can make your cabinets look new.
Countertops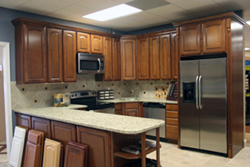 We have many lines of countertops with a wide selection of styles and materials.
Granite
Marble
Limestone
Wilsonart
Staron By Samsung
L.G.